Jensen Rufe's been a singer/songwriter/recording artist/guitarist/bass player/producer for more than 30 years (click on the links below to explore his musical endeavors).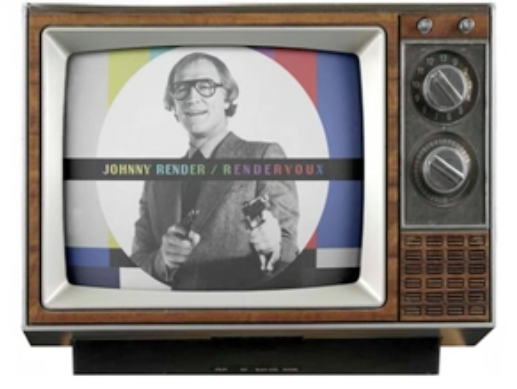 Rufe's most notable personal musical accomplishment is a record released under the stage name Johnny Render. Mr. Render spent a week in the fall of 2011 in Cleveland, OH recording the 15-song "Rendervoux" LP with long-time Guided By Voices Producer Todd Tobias. "Rendervoux" was released in 2012 and supported by a West Coast tour. Rufe is in pre-production for another Johnny Render album, expected in late 2021 or 2022.
Rufe spent most of his UCLA years in the electric/acoustic experimental group Puddletown Tom, then formed or joined roughly a dozen bands while getting his master's degree from Humboldt State University.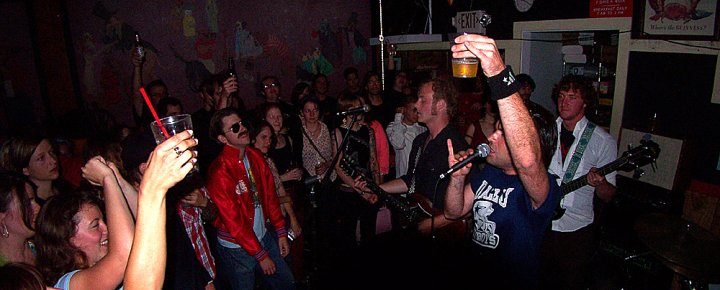 Tigerbomb! (originally called the ex-Supermodels) was a Guided by Voices/Robert Pollard coverband that was popular at taverns and parties around Humboldt County in 1998 and 1999. They continue to reunite regularly, including a 2013 West Coast tour, and an appearance at 2017's HEEDFEST, a world-famous "Guided By Voices" convention in Dayton, OH. View a sample of Tigerbomb! show flyers here: 1 2 3 4 5 6 7
After Tigerbomb!, Rufe joined several projects, including Hasslehoff – hard rock polka led by Trevor Creel on accordion. Here are a couple of tracks from Hasselhoff: "Put Your Finger Down" and "Superman."
Rufe made a video in the summer of 1999 for his favorite local band The Sin Men (see "Buddy Holly" video here). Shortly after making the video, after some personnel changes, they invited Rufe to become their permanent bass player. The Sin Men went on to play dozens of successful shows over the next year with bands like L7, The Groovie Ghoulies and local faves such as Crimewave!, Scopac (from Scotia), Audio Wreck, The Hitch, and The Cutters, for which Rufe made a music video in 2001 (see "Out Tonight" video here). In late 1999, The Sin Men released a full-length CD and toured the West Coast numerous times in support of it. View a sample of The Sin Men's show flyers and band photos here: 1 2 3 4 5 6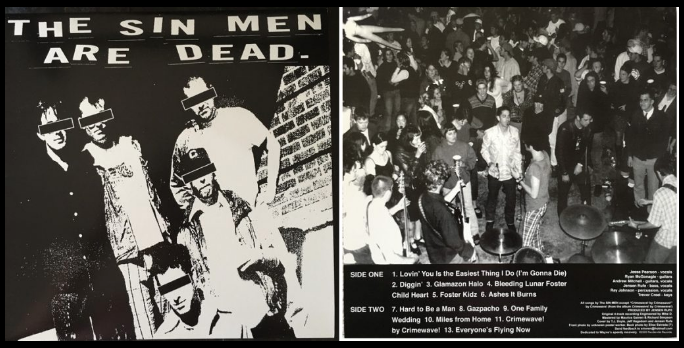 In 2004 Rufe revisited a 5 year-old box of abandoned Sin Men 4-track cassette tapes and after recording some additional music in Los Angeles and Eureka, he re-mixed the combination of old and new recordings onto a brand new 12-song LP–released on vinyl–a limited-edition set of 100 called "The Sin Men Are Dead." Listen to a sampling of tracks from "The Sin Men Are Dead" here: "Gazpacho," "Everyone's Flying Now," and "Glamazon Halo."
In 2000, Rufe joined a combination of Tigerbomb and The Sin Men in the punk rock outfit, The Foster Kids. Although The Foster Kids didn't have an official release, they played dozens of shows in California, Oregon and Washington, and became a house favorite at iconic Eureka bar The Shanty. Here are a couple of Foster Kids "boombox recordings" for your enjoyment: "Foster Kids" and "This Girl Is The GOAT." And here's a Foster Kids show flyer and band photo: 1 2
In 2000 Rufe collaborated with Steve Love in The Steve Love Jensen Rufe quartet; they released an experimental 4-track concept album, "Rock and Roll Enema." Rufe also played with three more coverbands: Loaded – a Velvet Underground tribute (photo credit: Mark McKenna), The Watermelon Guns – a Flaming Lips Tribute, and The Beatles – a Beatles tribute. In 2001, The Steve Love Jensen Rufe Quartet followed up their debut effort with a concept E.P., "Space Needle Excavator," and in 2002, they re-released "Rock and Roll Enema – Now With Less Music!" Here's a show flyer featuring both The Beatles and The Steve Love Jensen Rufe Quartet.
In 2001, Rufe moved to Los Angeles and formed The Natural Lights with two old friends Paolo Davanzo (Here and Now) and Calixto Hernandez (Barrio Tiger). They played numerous LA shows (becoming a house favorite at Calixto's Juvee skate shop/venue in Silver Lake) and toured the West Coast several times. Listen to a Natural Light recording here: "Bright Spot." And view a sample of Natural Lights flyers and band photos here: 1 2 3
Rufe also sings and plays bass in The Flaming Boys, an LA-based tribute to both The Soft Boys and The Flaming Lips.
Through the years, Rufe has continued to write and record songs on a solo basis. Here's a sampling of Rufe's homemade 4-track demos: "Ladidadida," "Maybe" (a Harry Nilsson cover), "Girls Are On Fire," and "Not A Friend" (a Sebadoh cover).
Finally, here are a couple of lo-fi tunes that Jensen recorded with his old friend comedian Bobby Lee under the moniker of Mexico: "Assmouth Kind of Things" and "Gazpacho."