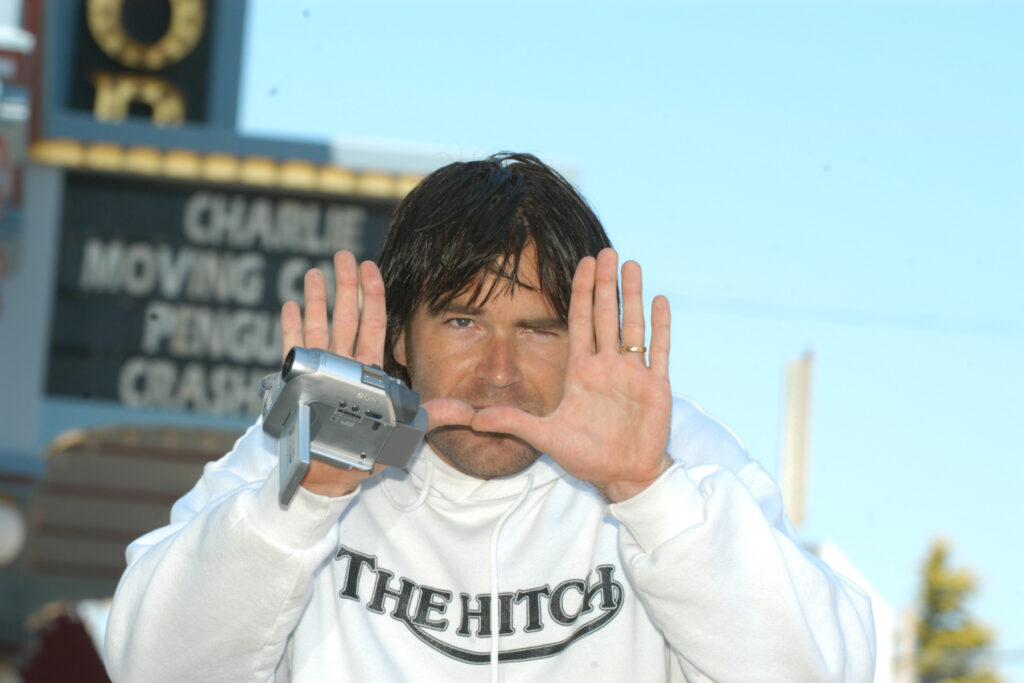 Jensen Rufe is an Emmy-nominated editor/documentary filmmaker/musician.
He spent his early years in the Midwest, absorbing the odd sense of humor that seems indigenous to his family's home state, Indiana. The Rufes moved to San Diego in 1982.
In college, Rufe took an interest in the media and received a B.A. in Mass Communications from UCLA in 1995. He continued to follow that interest in "media arts" up to Humboldt State University, where he delved deeper into a fascination with documentary filmmaking. Two of his HSU thesis projects "In Search of the Famous Hoosier Breaded Pork Tenderloin Sandwich" and "The Ugliest Fountain in the World (Without a Doubt)" were successful at film festivals–winning several awards and eventually airing on PBS.
Upon receiving an M.A. in Film Production from HSU, Rufe was offered the position of Humboldt County Film Commissioner, where he worked for three years providing assistance to producers of on-location TV and film productions, including Castle Rock, 20th Century Fox, Disney, IMAX and Warner Brothers. It was during his stint as Commissioner that Rufe completed his third documentary, "Orick, CA, U.S.A.," a feature about land-use issues in a quirky Northern California town, Directed with longtime collaborator Steve Love.
In 2001, Rufe relocated to Los Angeles with his wife Andrea to focus on professional creative work within the television industry. He started in Post-production at Bunim-Murray Productions–the company widely proclaimed as the originators of "reality" TV–Producing, Directing and Editing for such shows as "Project Runway," "The Simple Life," "The Real World," "Keeping Up With The Kardashians," the documentary series "Surviving R. Kelly," and also freelancing for other MTV, Bravo, USA, Discovery, ABC, CBS and FOX Network shows, including "The Bachelor," "The Bachelorette," "Bad Girls Club," and "Real Housewives of Dallas." Rufe received Emmy nominations for his editing work on "Project Runway" in 2015 and 2017.
Over the past two decades, Rufe has continued to independently produce documentaries: "The Fuse" (2002, 24-minutes) is a rock and roll documentary about an outrageous and impactful SE LA mod punk band of the same name. "Steve and Jensen's Universe" (2004)–a half-hour television pilot Produced by Rufe–is a non-fiction variety show which revisits his earlier breaded tenderloin and Orick themes–in very different ways–and also tosses in a new gem: a five-minute expose into the late 1960s rumor that Paul McCartney had died ("Paul is Dead"). In 2006, Rufe Produced "Rural Rock & Roll," a pilot for a travelogue series that would celebrate the cultures of local small-town music scenes nationwide. The pilot episode–filmed in Humboldt County, CA–screened internationally, winning awards on the film festival circuit as a stand-alone documentary.
Rufe is a life-long musician, music producer, music video director, and avid follower of rock and roll, having written and recorded songs for 30 years in dozens of bands. Of note: The Package (a singer-songwriter duo with Kevin Schuhl), Laxton's Superb (psychedelic 60s harmony-rock), Puddletown Tom (a loud experimental electric and part-time acoustic band), Mexico (a 4-track duo with comedian Bobby Lee), Tigerbomb! (a Guided by Voices tribute band), The Sin Men (his favorite Humboldt band), Hasslehoff (hard rock polka), The Foster Kids (a fusion of the Sin Men and Tigerbomb!), Loaded (a Velvet Underground coverband), The Watermelon Guns (a Flaming Lips tribute), The Steve Love and Jensen Rufe Quartet (another experimental 4-track project), The Beatles (a Beatles coverband), The Natural Lights (a melodic garage rock effort here in L.A.), as well as a brief stint in the Humboldt supergroup, The Cutters. In late 2004, Rufe produced a limited-edition vinyl-only L.P. of his old band, The Sin Men, called "The Sin Men Are Dead," featuring remixed snippets of recordings taken through the years. Rufe spent time in the fall of 2011 in Cleveland, OH recording a solo record under the stage name Johnny Render with long-time Guided By Voices Producer Todd Tobias. "Rendervoux" was released in 2012 and was supported by a West Coast tour. Meanwhile, Tigerbomb! has continued to tour and play shows, including a 2013 West Coast tour, and an appearance at 2017's HEEDFEST, a world-famous "Guided By Voices" convention in Dayton, OH. Rufe also sings and plays bass in The Flaming Boys, an LA-based tribute to both The Soft Boys and The Flaming Lips.
Rufe continues to work in television post-production and is in the process of writing songs for another Johnny Render record (expected release in late 2021 or early '22).